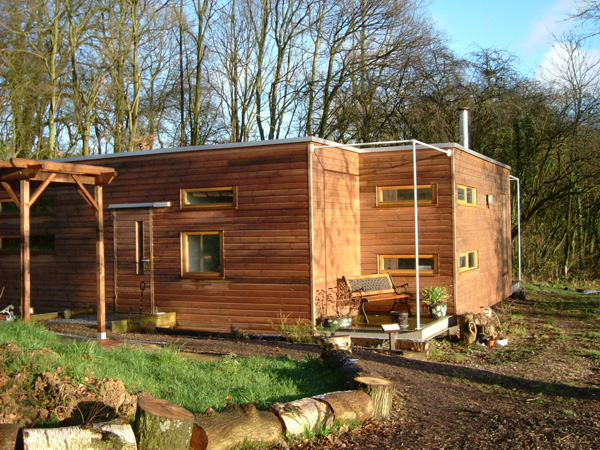 Blackthorn is situated near the car park and the entrance to the lower field, but discreetly sited to blend with the environment, it can aptly be described as a cabin in the woods.  It has full disability access.
Blackthorn can accommodate 12 people in two 4 bedded rooms and two 2 bedded rooms, has two bathrooms and additional was basins and a kitchen within the main activity space.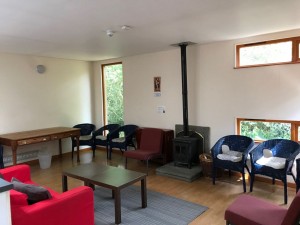 Main doors open to the front and the rear of the building, allowing access from the car park or the field.  The compact kitchen area is divided from the lounge by a central breakfast bar with the open-plan layout allowing full interaction between users.  The area has tables, chairs and easy chairs and boasts a log burning stove for those relaxed moments.  The fully fitted kitchen has a large fridge, under counter freezer, domestic cooker, and microwave and is fully equipped for 12 people.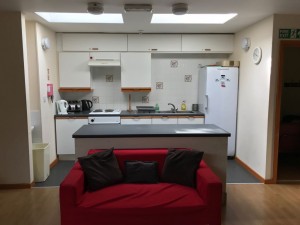 Blackthorn sleeps up to 12 people in two 4 bedded rooms and 2 two bedded rooms.  Each room has built-in bunk beds with plenty of head room.  There are independent heating units in each bedroom.  The hanging and shelved storage cupboards double up as stairs to the top bunks – a sturdy and novel method of reaching the upper beds.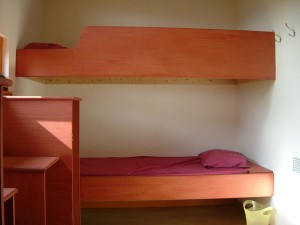 There are two washroom areas each with three hand basins.  One side of the building has a toilet and separate shower room, while the other side comprises an integrated shower, toilet and low-level hand basin area for those with disabilities.
Blackthorn is a light, airy building with windows at all levels so that the countryside, flora and fauna may be seen from within.
If you wish to get away from the hustle and bustle of everyday life look no further than Blackthorn, where peace and quiet come as standard