Fieldside is our newest building, opened in September 2015. This provides residential facilities for 24 people and is fully disability accessible. It is a modern, energy efficient unit with the latest insulation materials, green roof, solar panels and underfloor heating.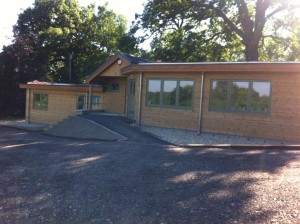 The sleeping accommodation consists of two 8 bedded bunkrooms, with adjacent toilets and washrooms. The building also has two 4 bedded en-suite leaders rooms, one of which is fully wheelchair accessible. The accommodation is split across two levels with a leader room, bunkroom and bathroom on each level. The accessible room is on the main floor with the activity room.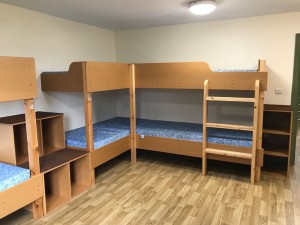 The open plan kitchen and activity room have panoramic views across the site.  The main door at the front of the building opens into a boot room which in turn opens into the lobby area.
The kitchen offers a space for both group catering and for the group to get involved in cooking activities, with an island linking the kitchen to the activity room. The kitchen is equipped for 30 with a 6 hot plate hob and electric oven, a large fridge, under counter freezer, microwave, constant water boiler.